"Thank you for buying our product. Turn on your Master X-Ray Vision as we pay tribute to the TaskMaker Team!" - In-game description
The acknowledgments is a level that is opened up after defeating the TaskMaker. The door to the location opens up in the room behind the throne. It features a conveyor belt ride that introduces the creators and contributors of TaskMaker, and also features a special thanks section for people who helped create the game.
In Tomb of the TaskMaker, the acknowledgment levels is present again, featuring a large number of NPCs from the game, with nonstandard speech text congratulating you on completing the game.
The NPCs in this level will also provide you with a number of special "other" spells.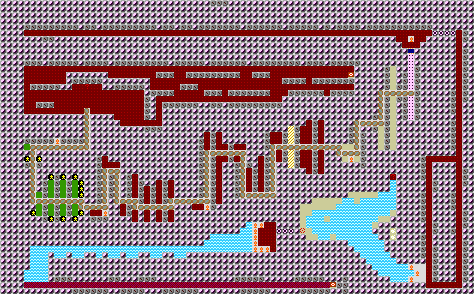 Sprawling wall quotes read:
"TaskMaker is dedicated to my mother, Martie Cook; A true individual!"

A secret passage to the east reveals these inspirational quotes:
"Be Yourself!"
"Have Faith"
"You are not a number!"
"Hold on tight to your dreams"
"You listen to your own heart! Thump Thump Thump Thump Bye"
The main passage reads:
"The Taskmaker Team"

"Illustrations by Tom Zehner" (a "Julie's Whip" is also in Tom's space, possibly a tribute to his wife.)
"Arbalest Fierce Fold and Friendship by Dan Schwimmer Zelphon Ki" (a "Zelphon's Mace" is also in Dan's space.)
"Manual and game editor Dave Friedman (a "Mac SE" is also in Late Night Dave's space.)
"Major testing thanks to Chris Webb

"Thank You"

"Our first V2.0 customer: Chuck Curtis 10-10-1993 Fax Calif"

"Thank Yous to:"

"Bill Jahnel"
"Bo Lindbergh"
"Steven Hill"
"Rod Whitten"
"Troy Janisch"
"AOL"
"CGR"
"Macgalaxy"
"Woz"
"Mom" is written in tiles above "mother" at the border.
Map for Acknowledgments in Tomb of the Taskmaker
Edit